Truth Stands
July 8, 2016 @ 7:30 pm
$15 – $30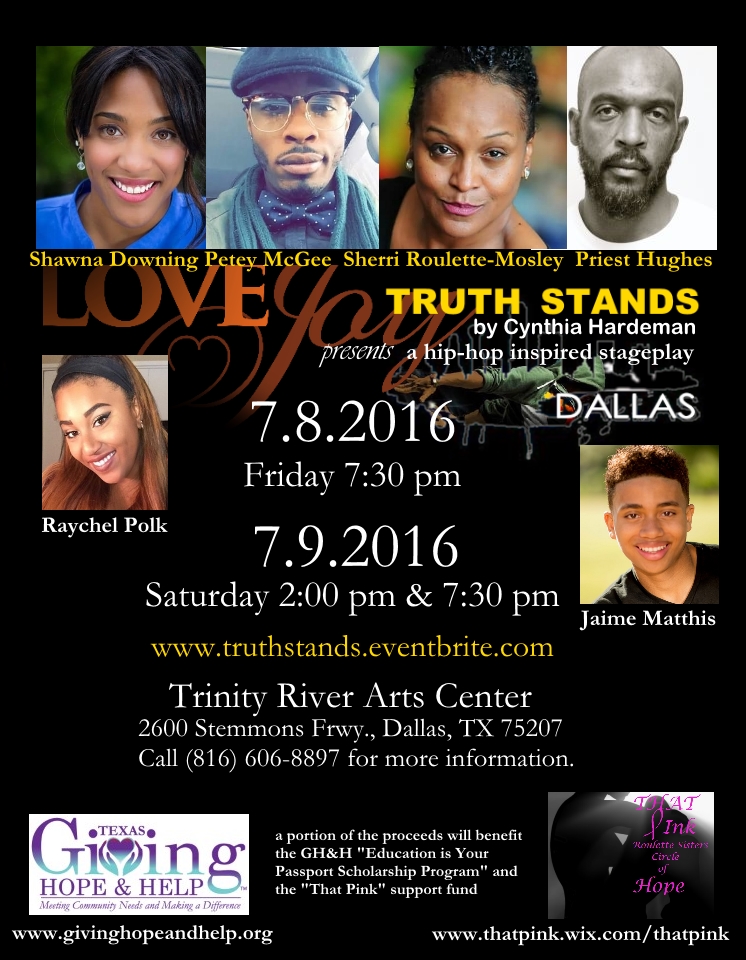 The award winning play Truth Stands makes its Dallas debut on Friday and Saturday, July 8-9, 2016 at the Trinity River Arts Center located at 2600 Stemmons Frwy., Dallas, TX 75207. Showtimes are 7:30 PM on Friday and 2 PM and 7:30 PM on Saturday.
Written by playwright CYNTHIA HARDEMAN, the hip-hop inspired drama is the powerful story of siblings JD (PETEY MCGEE) and Junebug (SHAWNA PENA-DOWNING) who must find the courage to stand in their own individual truth. Worlds collide, secrets are revealed and everything is turned upside down in a matter of weeks when the two become part of each other's lives after having grown up in separate households with vastly different lifestyles. Set against a driving hip-hop backdrop, will they conquer their fears and set themselves free, or will they choose their familial cocoons of oppression? Rounding out the cast are PRIEST HUGHES as POPZ and SHERRI ROULETTE-MOSLEY as MOMZ.
Hardeman says the story was inspired by her own family, "Truth Stands came from a conversation I had with a cousin who actually was separated from his siblings," she explains.  "He told me how strange it was that he had a brother living in another state that he had never met, but when his brother began having trouble, his family reached out to him for help. So, from that, I started developing this story in my head about what might that be like. Two brothers or sisters who never met, with completely different upbringings, and yet, they still connect on some level."
Audiences and critics are hailing Truth Stands as a modern day masterpiece of prose and poetry combined to form a compelling story that crosses the boundaries of age, race and gender with the universal themes of family, redemption and forgiveness. The bare staging is filled by a litany of powerful performances each more dynamic than the last driven by evocative dialogue and scintillating rhymes. The play was first performed at Baltimore's Center Stage Theater after being selected as a finalist in the national Word Bridge Competition. Seeing her work performed for the first time was surreal for the playwright. "It was my first time hearing the play being done by professional actors and directed by a professional director, and it was an amazing, out-of-body experience," exclaims Hardeman. Truth Stands also placed second at the national Taste of Theatre Festival in Chicago in 2015.
Hardeman's love of writing was evident at an early age as she began jotting down short stories as a child and would put them away in notebooks, but it wasn't until she was an adult expanding her education that she recognized her true passion for playwriting under the tutelage of playwright Frank Higgins. She explains, "I was working with a Spanish speaking client, and I went back to school to get certified to teach Spanish, and I decided to take a play writing class, and I just blossomed. I realized that what I had been doing all my life was writing down little skits and plays, and I just fell in love with it! Mr. Higgins opened up this whole new world to me; so, I started writing and producing my plays and haven't stopped!" It is clear that Hardeman has a voice that needs to be heard and more awe inspiring stories to tell!
Truth Stands features mesmerizing performances by an incredible cast of performers as well as local teens RAYCHEL POLK and JAIME MATHIS.  Don't miss this extraordinary live theater experience! Tickets are on sale now at www.truthstands.eventbrite.com. Tickets are $20 in advance, $30 at the door and $15 for minors under 16 years of age and senior citizens age 65 and above. For more information, call 816-606-8897.
A portion of the proceeds will benefit the GH&H "Education is Your Passport" Scholarship Program and the That Pink support fund.